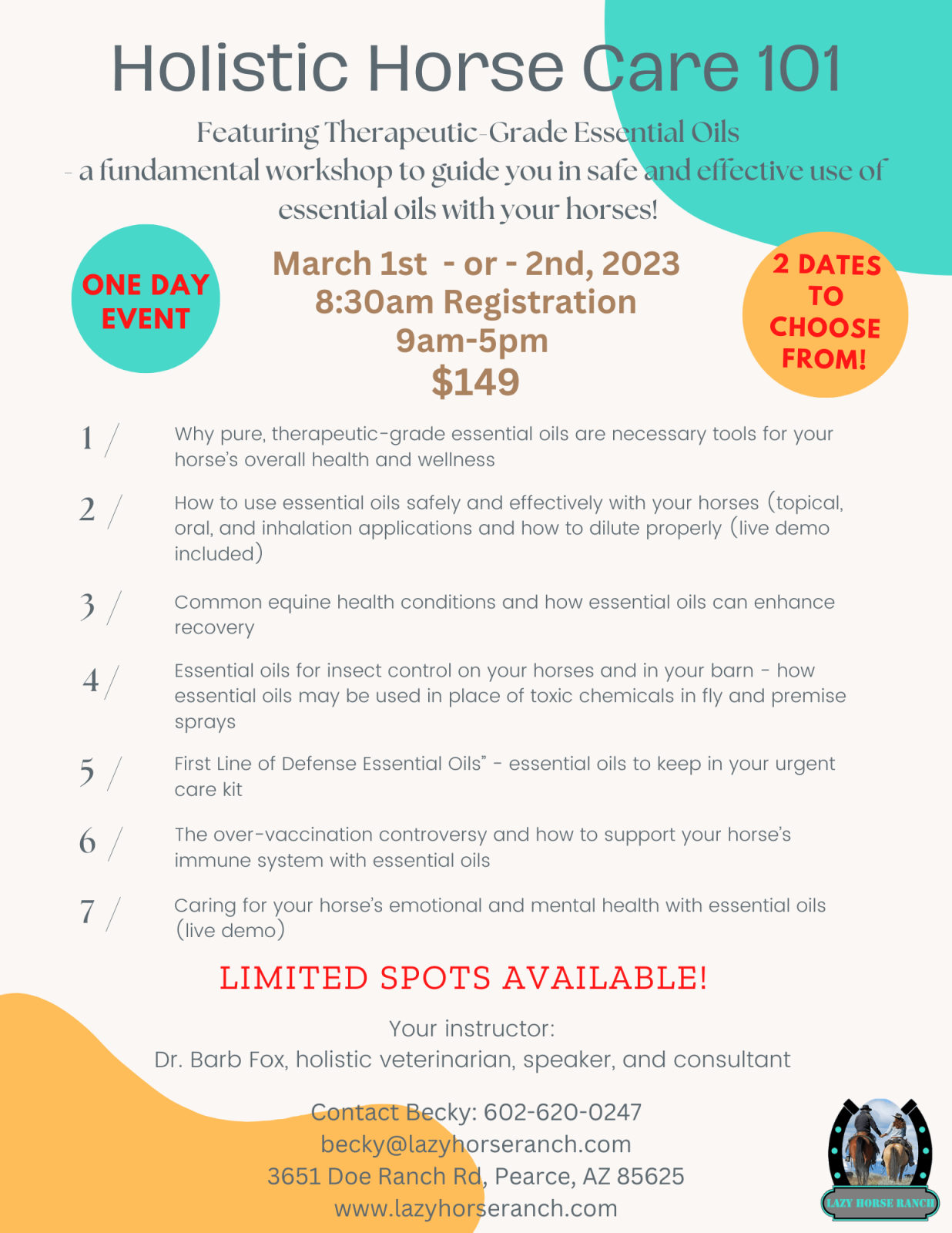 Mar 01, 2023 08:30 AM

–

Mar 01, 2023 05:00 PM

Mountain time
Join Megan, Becky & Dr. Barb Fox IN PERSON!
Holistic Horse Care 101
Featuring Therapeutic-Grade Essential Oils
- a fundamental workshop to guide you in safe and effective use of essential oils with your horses!
8:30am Registration

9am-5pm

$149

limited spots available

one day event
1. Debunking myths and fallacies concerning essential oils and dogs - what are "safe" oils, and how to sift through marketing claims to discern what a biologically active oil is
2. Proper application and usage of essential oils in dogs - how to apply topically diffuse, or administer orally - and when and how to dilute oils
3. Exploring digestive issues - how "leaky gut" can lead to a myriad of chronic health conditions and how essential oils can help the body recover
4. How inappropriate diets, toxicity from chemical exposures, and hormonal
imbalances can lead to undesirable behavior, and how essential oils can enhance demeanor and attitude in dogs
5. How essential oils can be helpful in detoxification from chemicals, drugs, vaccines, and more
6. Use of essential oils in oncology, for a dog's mind, body, and spirit
7. How to facilitate an emotional release session with essential oils and crystals
(Live demo)
Dr. Barb Fox, holistic veterinarian, speaker, and consultant
Contact Becky: 602-620-0247
3651 Doe Ranch Rd, Pearce, AZ 85625
Click on images below to view larger and download/print/share, etc.!