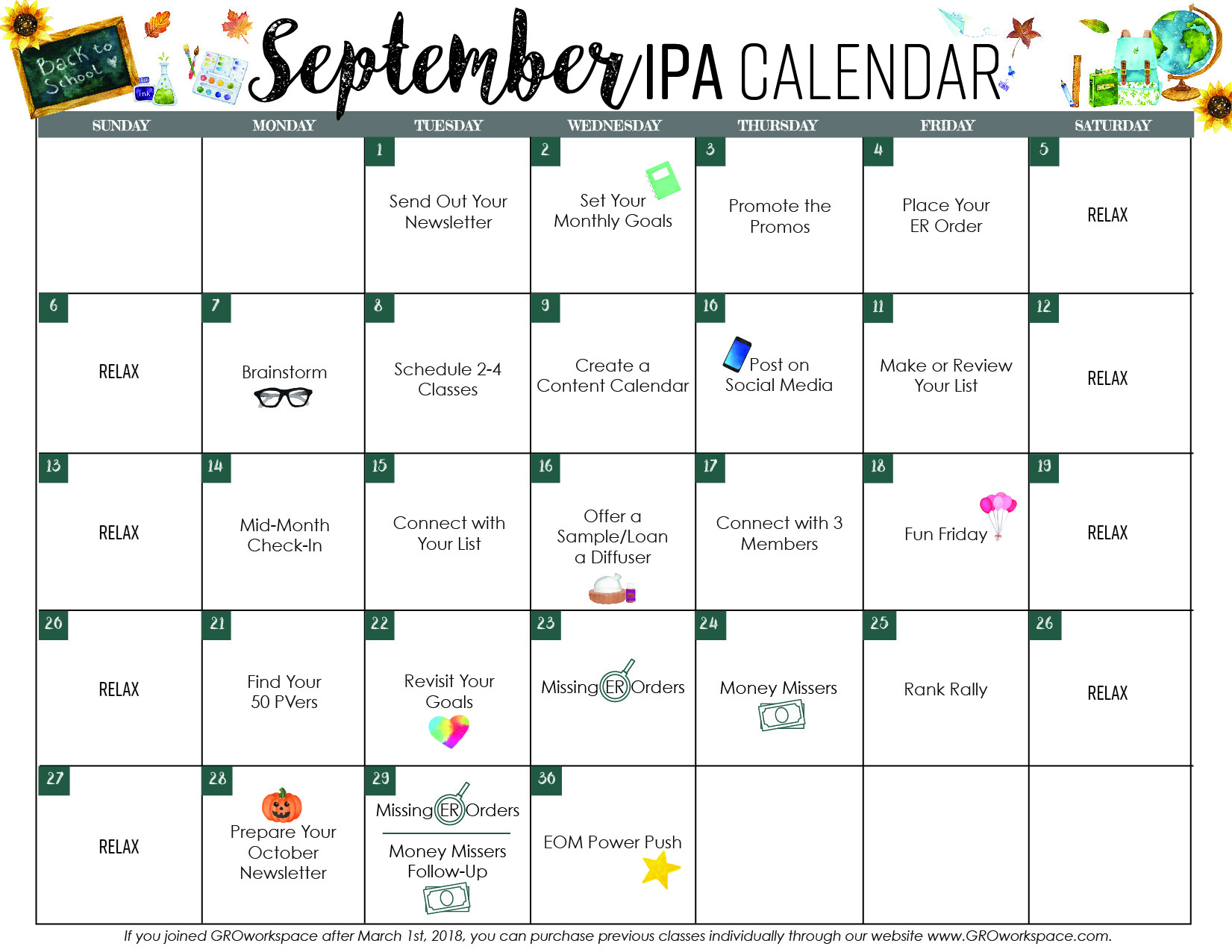 SEPTEMBER IPA's
Day 1: Send Out Your Newsletter
Use the Newsletter created by GROworkspace for content, photos, and inspiration. Even if you don't see your specific market you could easily swap out the promo information and use what you can from the other products mentioned in the newsletter. Get creative in how you advertise it too. Hide someone's member number within and, if they find it, they'll get a special gift from you!
Day 2: Set Your Monthly Goals
If you set goals last month, take a look at them.

Write down the goals that you did not hit.

Then write down your barriers. (Why didn't you hit these goals? What got in the way?)

Then write down how you are going to move those barriers out of the way so you can hit your goals this month.

Write down your NEW goals for September.
BONUS: Write down or revisit your WHY.
It is time to revisit WHY you are doing all of this in the first place. What is your mission for doing this? I don't just want you to write down, "To get free oils." I want you to dig deep. If free oils were the first thing to get you here, ok. Now I want you to really dream big and come up with the why that is going to make you push through on the hard days. Write it down and look at it EVERY SINGLE DAY.
Need inspiration? Visit this lesson in your Business Training - Discover your WHY.
Day 3: Promote the Promos
Young Living gives us amazing freebies every month, right?!? How much are you sharing about them with your team? Don't just post them on the 1st and expect everyone to remember. Promote them all month long! Take the individual promo graphics we provide you and…
pre-schedule #productspotlight posts in your group

use them to create a Sway

use them in the texting campaigns we provide and send all at once, or edit to send one or two a week

go LIVE once a week and share specifically about the promos; tell your stories
Keep these promo products front and center all month long, and get your people excited about receiving them.
Day 4: Place Your ER Order
Get your ER order placed early in the month so you have plenty of time to share about it. Make it a point this month to order something you have never tried. When your order comes in, "GO LIVE" to unbox; let people know what you got and why you love it. Ask if anyone has tried your 'new' product. People love to give their opinions. You could also do this on Insta or FB Stories.
Day 5: Relax
Day 6: Relax
Day 7: Brainstorm!
Find a quiet place, grab your favorite drink and favorite notebook, do a quick meditation, and then brainstorm… or brain dump! Revisit your goals. Reverse engineer. What do you need to do, plan, schedule, create to make them reality. Where do you want to be on Sept. 30th? What do you want to have accomplished? What classes do you want to teach about? How do you want to show up on social media? What friends do you want to join your team this month? What members do you want to see step up and do the business? Ask yourself all these questions, write down your answers, and plan your attack!
Day 8: Schedule 2-4 Classes
After your brainstorming session yesterday, you should have some ideas on what you want to teach about. If you don't already have classes or events planned for this month, get at least two on the calendar. (If you do, start planning for next month.) Send personal invites to those that you want to attend… DO NOT mass invite everyone on your friends list! Even if you aren't getting out to teach many in-person classes during this time, it's still important to find ways to keep the momentum going! You can use platforms like Zoom or Google Hangout, or even do a Facebook LIVE event! GRO offers Instagram classes and bundles for Project Broadcast and Get Oiling now too - use those! There is more information on setting up classes in the business training section of your workspace.
GET CREATIVE WITH YOUR GROworkspace CLASS CONTENT: You can always take class content and use it as a highlighted topic over the month. Depending on the length of the class you could do a post a day or every other day or twice a week. Tomorrow's IPA will help you get things dones!
Day 9: Create a Content Calendar
How do you want to show up on social media this month? What topics do you want to talk about? Did you come up with anything in your brainstorming session? Plan it out because what gets scheduled, gets done. Print off the blank calendar we provide and use it to plan out what you will share on your FB or IG this month. You don't have to show up everyday, but you do need to show up consistently. And please, don't just share about oils, share about you! Create a list of 3-5 (or more) words or topics that describe you, then another list of 3-5 things you could talk about that fall under each category, and BAM… just like that, you have post topics for the rest of the month. It's that easy! ;)
Day 10: Post on Social Media
Well, you had to see this one coming, right?! LOL. Now that you have your content calendar ready, let's get to posting! Set aside an hour today to pre-schedule or pre-plan your content. One great way to 'batch post' content for your personal page (since pre-scheduling isn't an option) is to open up a Google doc or go into whatever app you have on your phone for keeping notes, and type up all your posts. You can even go as far as to find photos, too. This saves you so much time each day… when it is time to post it's all right there waiting for you.
Day 11: Make or Review Your List
Do you have a list of at least 100 Future Oily Friends? Yep, you read that right, 100! Trust me, you do know that many people. If you haven't made a list yet, grab the Future Oily Friends printable from the Business Training section of your workspace, or the YL Business Opportunity class and start to fill it out. If you made a list previously, it's time to review. Cross off anyone from your list that has already joined your team, and add new names to fill those spots. You will be using this list next week, so don't skip this one!
Day 12: Relax
Day 13: Relax
Day 14: Mid-Month Check-In
Check-in with YOU.

Where are you at in relation to the goals you set for yourself?

Check-in with your members.

Go through your Virtual Office. Look for missing ER orders, money missers, 0 PVers, and make a plan for following up by month's end.

Check in with your leaders.

Ask where they are at with their goals for the month and what you can do to help them.
Day 15: Connect With Your List
Pull out that list you made last week and pick at least five people to connect with today. Remember - your conversation does not have to revolve around oils.
Day 16: Offer a Sample/Loan a Diffuser
You decide. Take to social media, share about your favorite product and offer to send the first three people to comment a sample. If you have an extra diffuser, share your favorite diffuser recipe and set up a schedule where people can sign up to borrow your diffuser for a certain amount of days. Get creative and do what works for you, without breaking the bank!
Day 17: Connect with 3 Members
Go back through that list you made on Monday when you did a 'check-in on your members' and personally reach out to at least three of them. Remember, these numbers are just suggestions. If you can reach out to more, do it. Better yet - get into a habit of reaching out to just a few members each day, all month long. Decide how many days during the month you are going to connect, then divide up your number of members to make it much more manageable.
Day 18: Fun Friday
Step out of your comfort zone today, and get crazy! Have a dance party, put on a crazy hat, pick a quirky filter… let your personality shine and show a side of you today that people may not see very often.
Day 19: Relax
Day 20: Relax
Day 21: Find Your 50 PVers
Do a quick search in your Virtual Office and take note of all your members who have placed a 50 PV order this month. Reach out to them and make sure they know they are eligible to receive a thank you check this month and get their order paid for just by helping one person get started with a kit. Use the Help 2… Sharing Made Simple class to show them how simple it really is to share Young Living with others. Don't forget to also mention the awesome Level Up/Double Up goodies that they could also earn if they help more, and how much additional money they could earn. If they seem interested in the business side you could always share the "Young Living Business Opportunity: An Overview" Sway with them.
Day 22: Revisit Your Goals
As you head into the last week of the month, celebrate your wins! Go back over your goals and look at everything you have accomplished. If there are areas where you are still short, rework your plan and look at what you can do during this last week to accomplish them.
Day 23: Missing ER Orders
Check in with those missing ER orders. Anyone whose ER order processes below 50 PV will drop back down to Month One receiving only 10% back in ER points and needing to build back up. WE DON'T WANT THAT TO HAPPEN! Make sure they set up their PV Assistant. Find out how HERE.
In order to access the lesson on how to set it up, they will need to create their own FREE GROworkspace account. Send them this link to access "Explore: Wellness Purpose and Abundance." https://www.groworkspace.com/store/JQpoXB94
Day 24: Money Missers
Now that it is getting closer to the end of the month, follow up with your members who have the potential to get a paycheck but have not yet put in their orders ('Money Missers').
Remember, they need to spend 50 PV to collect the bonuses and 100 PV to get their commissions.
Check out the Young Living Business Opportunity class in your workspace for more details on how to get paid.
Day 25: Rank Rally
Encourage those who are close to new goals or ranks. Ask how you can help them as they set plans for the next few days to achieve those goals.
Check out this post from May 2018 to get ideas for how to give recognition to members of your team and get people excited. People LOVE recognition. Do it often.
Day 26: Relax
Day 27: Relax
Day 28: Prepare Your October Newsletter
Write up your team announcements and class schedule so that you will be ready to just copy/paste them into the newsletter on October 1st.
Day 29: Missing ER Orders/Money Missers Follow-Up
Now that it is even CLOSER to the end of the month, follow up with your members who have the potential to get a paycheck but have not yet put in their orders ('Money Missers') and those who are signed up for ER but whose orders have not processed.
Day 30: EOM Power Push
Tie up any loose ends. Be available for your members. Prepare for the new month by getting your newsletter ready and announcements planned out (like giveaways, classes, or challenges you may run for your team).