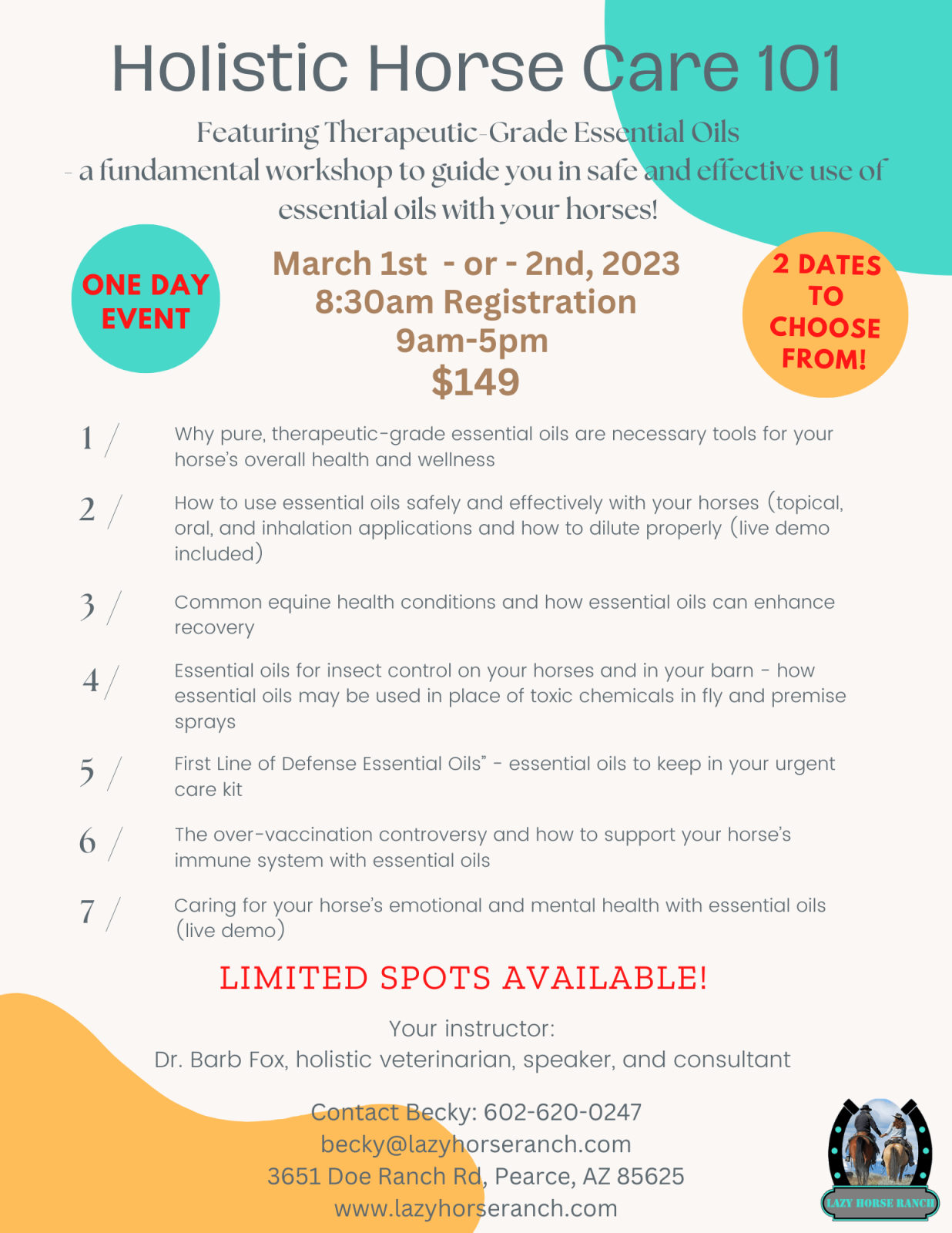 Mar 02, 2023 08:30 AM

–

Mar 02, 2023 05:00 PM

Mountain time
Join Megan, Becky & Dr. Barb Fox IN PERSON!
Holistic Horse Care 101
Featuring Therapeutic-Grade Essential Oils
- a fundamental workshop to guide you in safe and effective use of essential oils with your horses!
March 1st - or - 2nd, 2023
8:30am Registration

9am-5pm

$149

limited spots available

one day event

2 dates to choose from
* Why pure, therapeutic-grade essential oils are necessary tools for your horse's overall health and wellness
* How to use essential oils safely and effectively with your horses (topical, oral, and
inhalation applications and how to dilute properly (live demo included)
* Common equine health conditions and how essential oils can enhance recovery
* Essential oils for insect control on your horses and in your barn - how essential oils
may be used in place of toxic chemicals in fly and premise sprays
* "First Line of Defense Essential Oils" - essential oils to keep in your urgent care kit
* The over-vaccination controversy and how to support your horse's immune system
* Caring for your horse's emotional and mental health with essential oils (live demo)
Dr. Barb Fox, holistic veterinarian, speaker, and consultant
Contact Becky: 602-620-0247
3651 Doe Ranch Rd, Pearce, AZ 85625
Click on images below to view larger and download/print/share, etc.!